Select
About Her
Jennifer Evans stands out with her determination and passion in striving towards perfection. She works hard to walk the path that leads to new and interesting experiences, more knowledge and great connections with fantastic people.
Born in 1987, Jennifer is a resilient and creative designer with a powerful drive that sees her take on projects and assignments with a sense of purpose and natural drawing flair.
Having worked within a team in practice as well as on the course, Jennifer is a keen team player: "Her generosity in sharing her expertise and her time were unique in my experience and I doubt I would have achieved what I did without her support and friendship." Amanda Briggs, Operations Director at GSE Research Limited.
When Jennifer is not glued to a computer screen or sketchbook, you'll find her out and about: usually mountain biking, motorbiking, camping, visiting family or having a good laugh with friends.
Please feel free to browse her portfolio and, should you have any questions or simply wish to meet her, get in touch.
---
IT Proficiency:
Autodesk:

AutoCad, Revit

Adobe:

Photoshop, In-Design, Publisher

Microsoft:

Word, Excel, Outlook

Other:

Evernote (Organiser), Sketch-Up
---
References:
Available upon request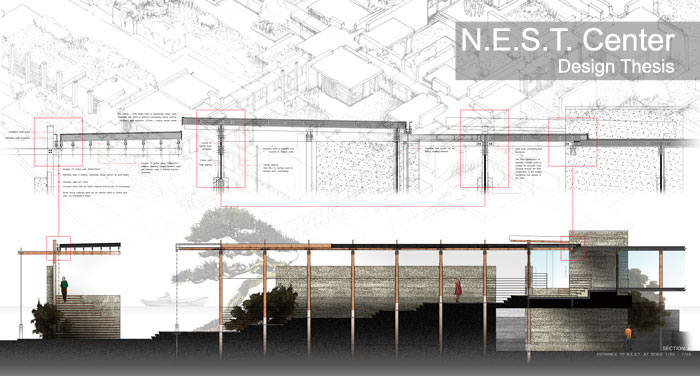 ---
Design Thesis: N.E.S.T. Center
---
About this project:
Produced at Huddersfield University
Master of Architecture - RIBA II
Life, a cycle of: Crisis - Stabilisation - Restoration
It is evident that emotions do influence one's mood and physiological responses, thus affecting one's reasoning as well as the body's immune system. To find this ideal balance where one experiences the exact emotional response the architect intended to reflect through careful manipulation of technics of an architectural environment, is the key driver for this scheme, a personal aspiration of mine.
This design thesis, which can be described as a Community Respite Center for Mental Health, broadly aims to achieve 'meaning' that stimulates the healing process, promote and enrich the social connections between patient and community, increase awareness of the phenomenology of psychology and by doing so, improve the general attitude people have towards mental health.
The core concept is to create a home that is in tune with the rhythms of nature. N.E.S.T. Center is not just a building, but also a service providing opportunities for reflection and social engagement.
N.E.S.T. Center entitled 'Northern Environmental Sanctuary Treatment Center' is situated in Mytholm near the centre of Hebden Bridge.
The proposed development integrates the community with those who have mental health problems: To sustain the local community and economy, the proposed development enables people to provide their services at the facility, such as art workshops, meditation and fitness classes, group talks, cooking classes, gardening, reading groups, poetry and more. All activities include actions of 'Five Ways to Well-being' with the additional action by HOOT: Be connected, be active, take notice, keep learning, give + be creative.
People with mental health problems, due to stress, trauma, etc. can sign up to take part of the provided activities and are supported by experienced staff members as well as the community. To further integrate the community, N.E.S.T. also allows the community to organise public events within the large flexible-use rooms, such as art galleries, receptions and meetings.
Whilst 'Architecture - A medium to influence behaviour and mental wellbeing' explores the connections between emotions and physiological responses, the design thesis explores relationships between the site, the local community, the topographical setting of the area and the proposed development.
For further information, I must refer you to my Preliminary Studies. Please contact me direct should you wish to obtain an electronic copy.