Select
About Her
Jennifer Evans stands out with her determination and passion in striving towards perfection. She works hard to walk the path that leads to new and interesting experiences, more knowledge and great connections with fantastic people.
Born in 1987, Jennifer is a resilient and creative designer with a powerful drive that sees her take on projects and assignments with a sense of purpose and natural drawing flair.
Having worked within a team in practice as well as on the course, Jennifer is a keen team player: "Her generosity in sharing her expertise and her time were unique in my experience and I doubt I would have achieved what I did without her support and friendship." Amanda Briggs, Operations Director at GSE Research Limited.
When Jennifer is not glued to a computer screen or sketchbook, you'll find her out and about: usually mountain biking, motorbiking, camping, visiting family or having a good laugh with friends.
Please feel free to browse her portfolio and, should you have any questions or simply wish to meet her, get in touch.
---
IT Proficiency:
Autodesk:

AutoCad, Revit

Adobe:

Photoshop, In-Design, Publisher

Microsoft:

Word, Excel, Outlook

Other:

Evernote (Organiser), Sketch-Up
---
References:
Available upon request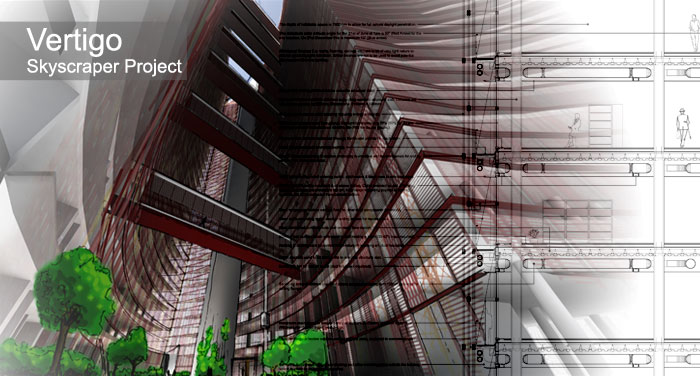 ---
The Vertigo Skyscraper
---
About this project:
Produced at Huddersfield University
Master of Architecture - RIBA II
Produced at Huddersfield University - Master of Architecture - RIBA II
It was required of us to re-engage with common sense thinking to design an environmentally responsive sustainable architecture that is exemplar in execution. Large scale construction generates large scale environmental impacts. It is therefore important to minimise these impacts by considered design.
The chosen site is immediately adjacent to Meadow Hall and the Northern approach to the City Centre from the UK's spinal M1 Motorway junction 34, which is served by the local Tram system linked to the proposed HS2 (High Speed Rail) in Sheffield.
The lesson and principles of this multi-storey building design exercise resides within both technology and organisation whilst also addressing the security and safety requirements. It is necessary that every floor level illustrates how it can be utilized in a particular way.
This project explores the design development of the environmentally responsive facade, and its interface with structure, services and internal finishes.