Select
About Her
Jennifer Evans stands out with her determination and passion in striving towards perfection. She works hard to walk the path that leads to new and interesting experiences, more knowledge and great connections with fantastic people.
Born in 1987, Jennifer is a resilient and creative designer with a powerful drive that sees her take on projects and assignments with a sense of purpose and natural drawing flair.
Having worked within a team in practice as well as on the course, Jennifer is a keen team player: "Her generosity in sharing her expertise and her time were unique in my experience and I doubt I would have achieved what I did without her support and friendship." Amanda Briggs, Operations Director at GSE Research Limited.
When Jennifer is not glued to a computer screen or sketchbook, you'll find her out and about: usually mountain biking, motorbiking, camping, visiting family or having a good laugh with friends.
Please feel free to browse her portfolio and, should you have any questions or simply wish to meet her, get in touch.
---
IT Proficiency:
Autodesk:

AutoCad, Revit

Adobe:

Photoshop, In-Design, Publisher

Microsoft:

Word, Excel, Outlook

Other:

Evernote (Organiser), Sketch-Up
---
References:
Available upon request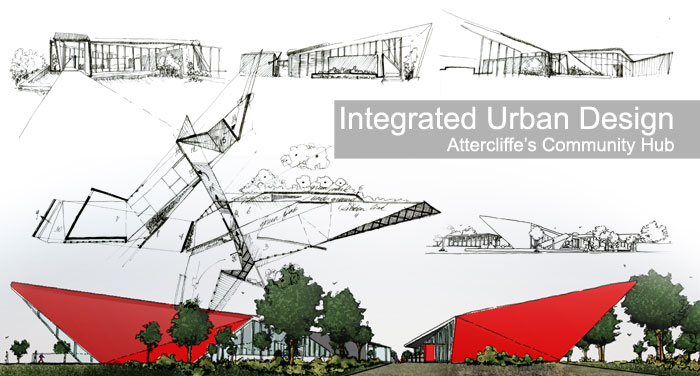 ---
The Community Hub
---
About this project:
Produced at Huddersfield University
Master of Architecture - RIBA II
"As a society we must start to redress the debilitating and environmentally destructive practice of proliferating free-standing buildings... save for the rare institutional commission, every building ought to be construed as an occasion for making place or adding to the continuous articulation of the human habitat..." (Kenneth Frampton)
In the first stage of this module, we have undertaken an Urban Study of Attercliffe as a group exercise. For the second stage and third, it was required of us to produce an Urban Design Plan for the future of the study area, which identifies potential sites for a particular project which forms part of the third stage.
The proposal for master plan and individual project is envisaged to be constructed within 5 years time of development, and thus careful considerations must take place with regards to transport infrastructure, retail and residential areas, etc.
As Attercliffe is a rather run-down area, the ultimate aim of the master plan and project is to bring back life to the area, sustain local businesses and promote a healthy life style.
I thought it would be best to attract artists to the area to live in the vacant spaces above the shops and help with surveying the area, bringing back a sense of security. A community hub would suit the area, with particular the community art/gallery centre I proposed (third stage) in the very center of Attercliffe. This gallery, wrapping around open space, a new square at the heart of the area, is provided with a market area where fresh produce can be sold at a weekly basis as well as arts and crafts once a month. For more information, please refer to the samples of work I've provided under this section.