Select
About Her
Jennifer Evans stands out with her determination and passion in striving towards perfection. She works hard to walk the path that leads to new and interesting experiences, more knowledge and great connections with fantastic people.
Born in 1987, Jennifer is a resilient and creative designer with a powerful drive that sees her take on projects and assignments with a sense of purpose and natural drawing flair.
Having worked within a team in practice as well as on the course, Jennifer is a keen team player: "Her generosity in sharing her expertise and her time were unique in my experience and I doubt I would have achieved what I did without her support and friendship." Amanda Briggs, Operations Director at GSE Research Limited.
When Jennifer is not glued to a computer screen or sketchbook, you'll find her out and about: usually mountain biking, motorbiking, camping, visiting family or having a good laugh with friends.
Please feel free to browse her portfolio and, should you have any questions or simply wish to meet her, get in touch.
---
IT Proficiency:
Autodesk:

AutoCad, Revit

Adobe:

Photoshop, In-Design, Publisher

Microsoft:

Word, Excel, Outlook

Other:

Evernote (Organiser), Sketch-Up
---
References:
Available upon request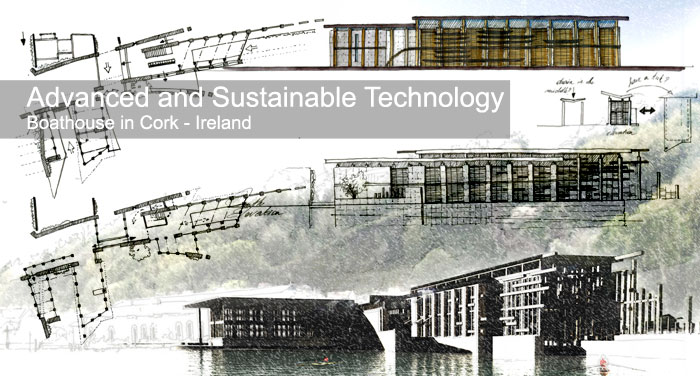 ---
Boathouse in Cork
---
About this project:
Produced at Huddersfield University
Master of Architecture - RIBA II
The site of the proposed Boathouse in Cork which lies east of the City Centre and extends eastward from Brian Boru Street to Lower Castleview Terrace on the Lower Glanmire Road.
Lower Glanmire Road represents the eastern gateway into the City for both the road and rail networks.
The task in this assignment is to design a new Rowing Club 'Boathouse' Situated on River Lee in Cork. This project comprises the major assignment for the Advanced and Sustainable Technology module, the purpose of which is to enable us to demonstrate the application of advanced building construction technologies and the integration of sustainable design and technology in an holistic architectural design. High level of detail and aspects of construction technology is expected to be explored within this project.
Because of the setting of the site, it needing to be a landmark of architectural significance, and the typology of the project, the challenge of this project lies with portraying the use of the building in such a way it lures people into the city, into the building as well as promotes good health simultaneously. Careful consideration must be carried out towards selecting the appropriate approaches with regards to sustainable technology to reflect the use of the building, the character and feel of the immediate environment.